We found out everything you wanted to know about the makes the Nation's Capital so great to live in from the people that call it home. Download our Washington, D.C. Research Report to review all of the details.
Washington, D.C.: Fast Facts
The District of Columbia, located on the north bank of the Potomac River, is the capital city of the United States. The centers of all three branches of the U.S. federal government are located in the city, as are many of the nation's monuments and museums. 
According to the US Census, the population of Washington, D.C. by age group is:
0-9: 11%
10-19: 10%
20-29: 19%
30-39: 20%
40-49: 12%
50-69: 10%
60-69: 9%
70-79: 5%
80+: 3%With
It's hard to find a place with this many interesting people – I mean by interesting not just weird or freaky but people with truly interesting knowledge, stories, and personalities. I'm talking about people who can blow you away with their knowledge of their particular subject, and yet be remarkably humble about it.

Clay P.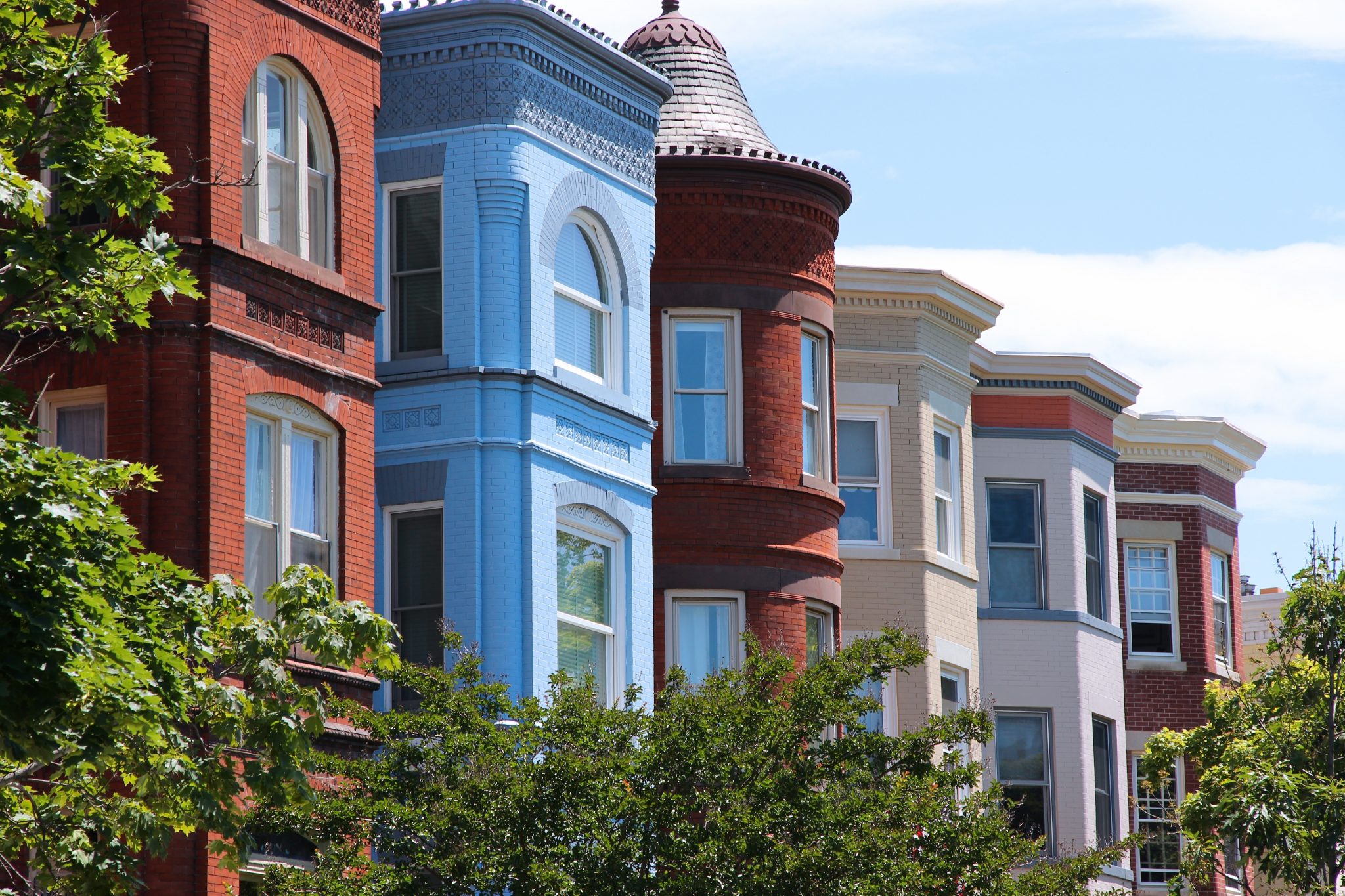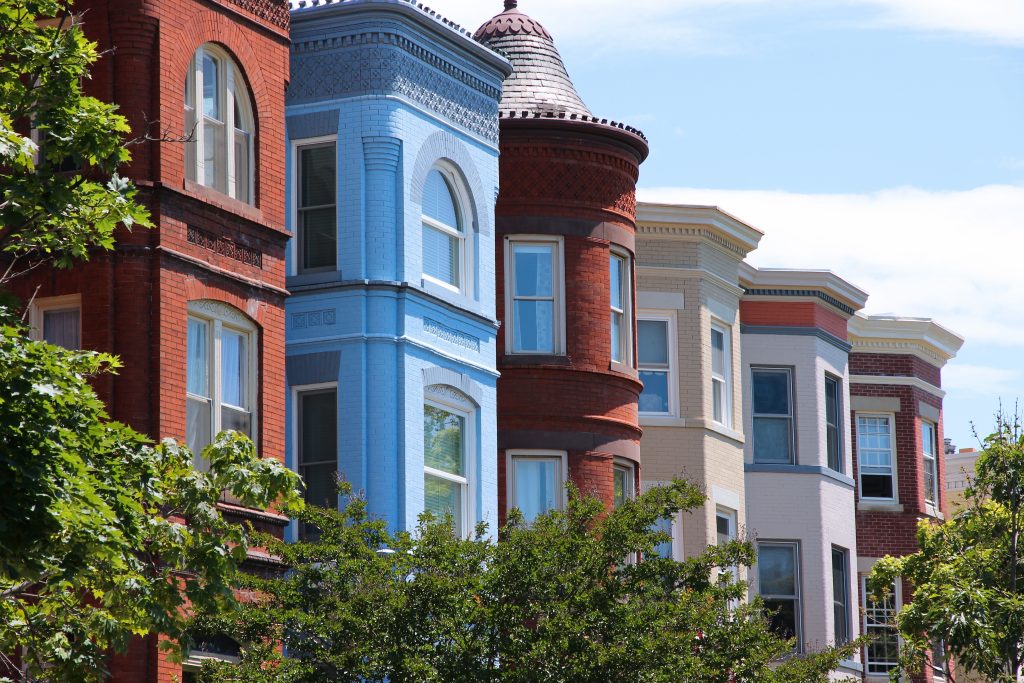 Washington, D.C. Neighborhoods
Adams Morgan/Mount Pleasant/Columbia Heights – This neighborhood is affectionately known as the Liquorridor due to its high density of bars and nightclubs. It's still possible to find fairly affordable apartments here, but rents are always rising. Of the three neighborhoods, Mount Pleasant holds the distinction of having a small town feel.
Dupont Circle – Arguably the trendiest neighborhood in the city, Dupont Circle is also the beating heart of the gay community here. Rents and home values tend to be on the higher end of the scale, but the trade-off is living within easy walking distance of an eclectic array of art galleries, bistros, cafes, shops and other trendy places. Dupont Circle is also centrally located, and it's easy to get to many parts of the city from here.
Shaw – Compared with many neighborhoods in North Central D.C., Shaw is largely overlooked. For many years, it served as the heart of the city's African American community. Vestiges of that past remain; for example, Shaw is widely known for its excellent live jazz scene. Along the U Street corridor, you can partake in a variety of cuisines. Little Ethiopia, for instance, offers some of the best Ethiopian food on the eastern seaboard. In recent years, gentrification has prompted the development of many upscale condos and apartment buildings, so there are plenty of luxury dwellings for those who want them. In general, however, the neighborhood is dotted with fairly affordable housing options. Just make sure you're okay with living in a part of town that is fairly restless late into the night.
Anacostia – Due to its high crime rate and, in many cases, abject poverty, this isn't usually high on the lists of those who are relocating to Washington, D.C. Housing prices and rents tend to be on the lower end of the scale, of course, so living here is one way to save money. Its strangely rural feel makes it seem completely set apart from the rest of the city.
Capitol Hill – You don't have to be a congressperson to hang out on Capitol Hill. Having a healthy annual income certainly helps, though. This stunning neighborhood, which is located just to the east of the Capitol Building, boasts gorgeous row houses from the 18th and 19th centuries. A variety of architectural styles lends the neighborhood a vibrant ambiance. Eastern Market is located here, so it's a great place to be if you're a foodie.
Northeast – This large, peaceful section of town lies just to the east of Rock Creek Park. It's also due east of Capital Hill and Adams Morgan. Brookland, one of the oldest and stateliest neighborhoods in D.C., is located here. If you'd like to live in a part of town that is packed with restaurants, bars and other amenities, this isn't the place for you. Unlike most parts of the city, it's something of a no man's land when it comes to those kinds of things. The one exception is the Atlas District, which has recently exploded with all kinds of nightlife attractions. Thanks to its proximity to livelier places like Adams Morgan, this is a nice area for families who want peaceful surroundings but don't want to be too cut off from the world.
Upper Northwest – D.C.'s Upper Northwest neighborhood routinely appears on lists of the country's wealthiest communities, so you can rest assured that home prices here are out of this world. A significant portion of the neighborhood is made up of stunning neighborhoods and exclusive enclaves. As the home of the National Cathedral, National Zoo and other attractions, it is usually teeming with tourists as well. There are nice commercial zones as well; notable examples exist in Tenley Park, Van Ness and Cleveland Park. Some of the most expensive homes are located in the Palisades district, and Friendship Heights is home to some of the city's wealthiest and most powerful residents.
Georgetown – Unlike the Upper Northwest neighborhood, Georgetown features a mix of residential and commercial developments. With its cobblestone streets and steep inclines, it stands apart from the rest of the city in an exciting way. The neighborhood overlooks the Potomac, and it is also home to Georgetown University, so there are usually plenty of rowdy college students milling around. Georgetown is a great place to live if you want to enjoy some of the most exclusive homes in the city with a backdrop of excitement and fun.
West End – This neighborhood is dominated by K Street, which is widely regarded as where the city's movers and shakers hang out by day. It's not really known as a residential area, but there are a few apartment buildings and condos here. If you want more housing options in the West End, you can take your pick from relatively affordable options like Foggy Bottom and McPherson Square, which are both centrally located. This part of town is where you'll find George Washington University, the Kennedy Center and the waterfront, which is where the Watergate Building is also located.
Waterfront – With its location directly south of the National Mall, the Waterfront, which is also known as Southwest, is a popular place to live. For decades, it was cut off from the rest of the city by a large, smelly canal. Those days are over, and the neighborhood has been revitalized thanks to the construction of a new baseball stadium and all kinds of restaurants, bars and other hot spots. It's still easy to find affordable places to live, but that won't be the case forever.
East End – This neighborhood is ground zero for tourist attractions, so steer clear of it if you want peace and quiet. With a mix of luxury apartments and office buildings, it is an interesting and convenient place to call home. Neighborhoods here include Chinatown, Penn Quarter and Judiciary Square.
The aesthetics are great. It has beautiful architecture, loads of history and a vast amount of forest. The people are friendly, well meaning and generally very non judgmental. Cultural diversity is everywhere. Bookstores thrive here, so does independent film. Job opportunities are many. There are so many excellent choices when it comes to restaurants, cocktails, concerts, lectures, book signings, etc.

Rachel S.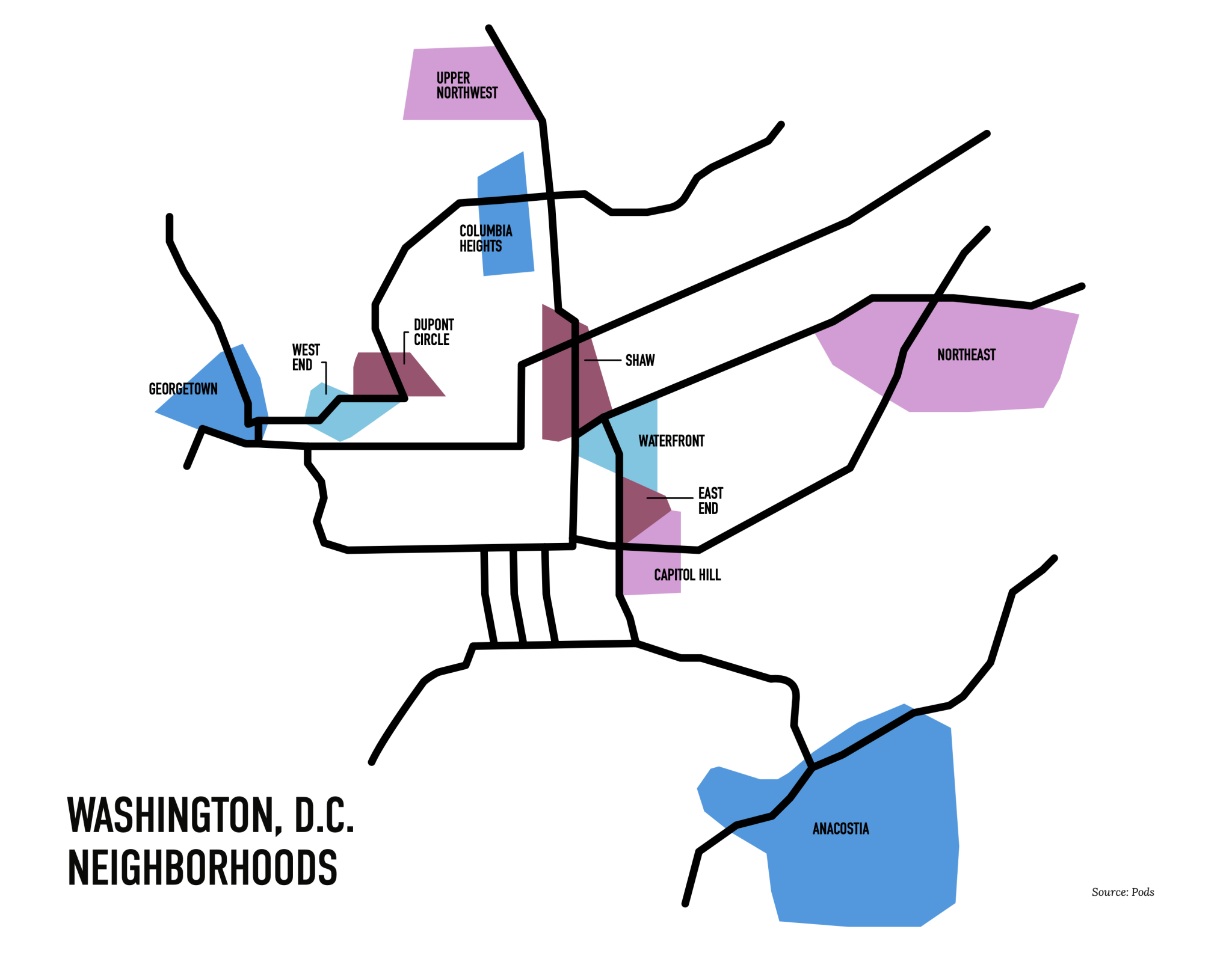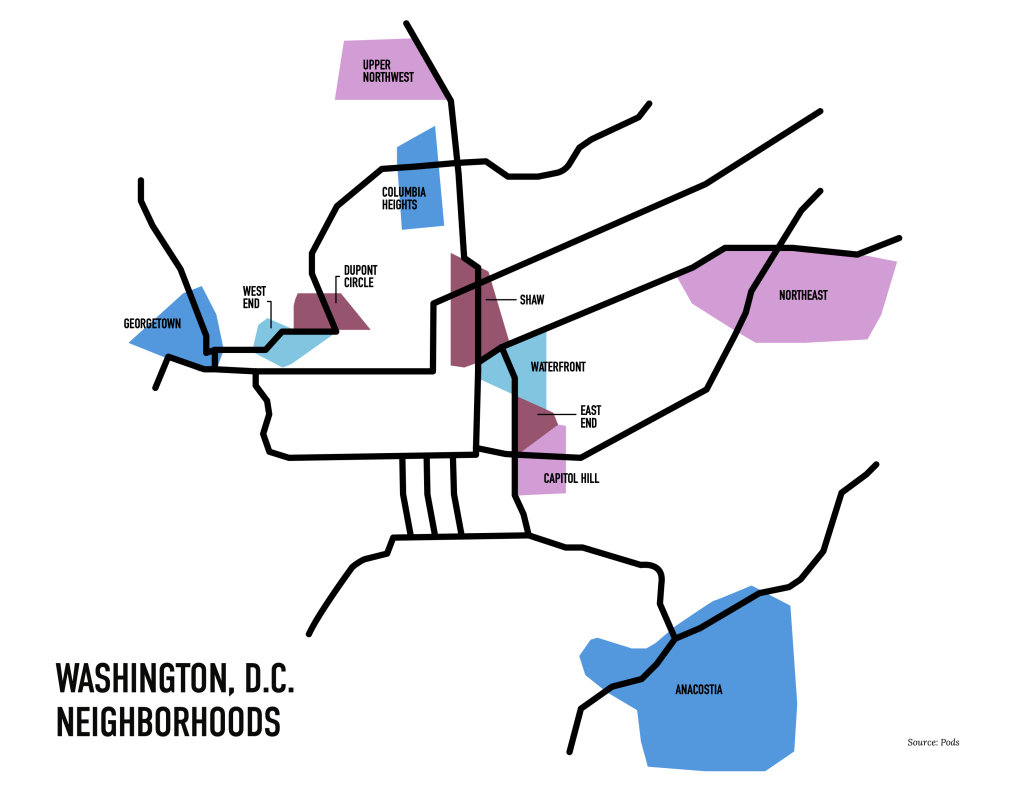 Doing Business in Washington, D.C.
You won't only find government jobs in the District. You'll also find many opportunities in the healthcare, education, and technology sectors.
Key Industries:  Federal government, professional and technical services, healthcare, and education
Major Employers: George Washington University, US Department of Commerce, George Washington University Alumni House, Naval Research Laboratory, MedStar Washington Hospital Center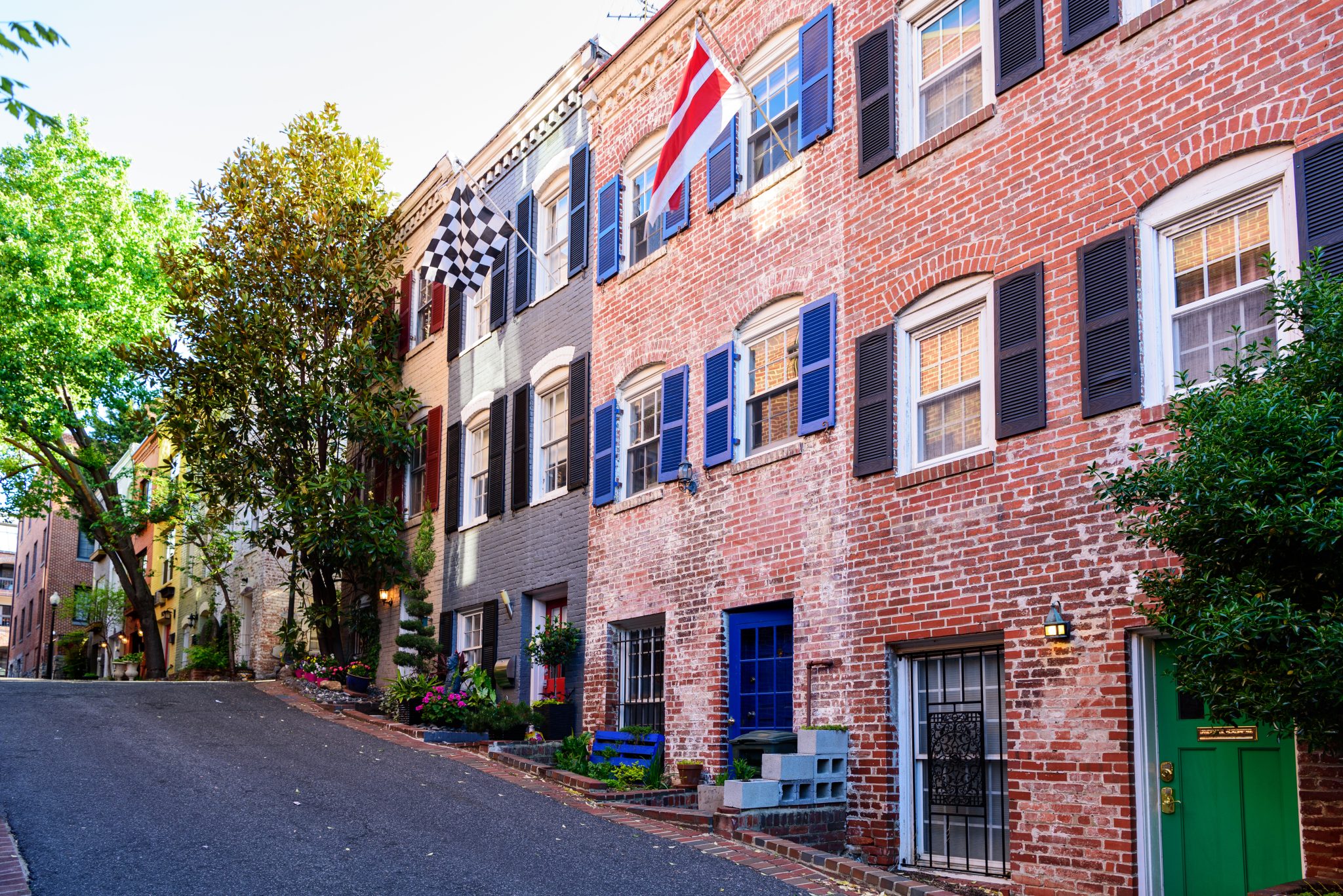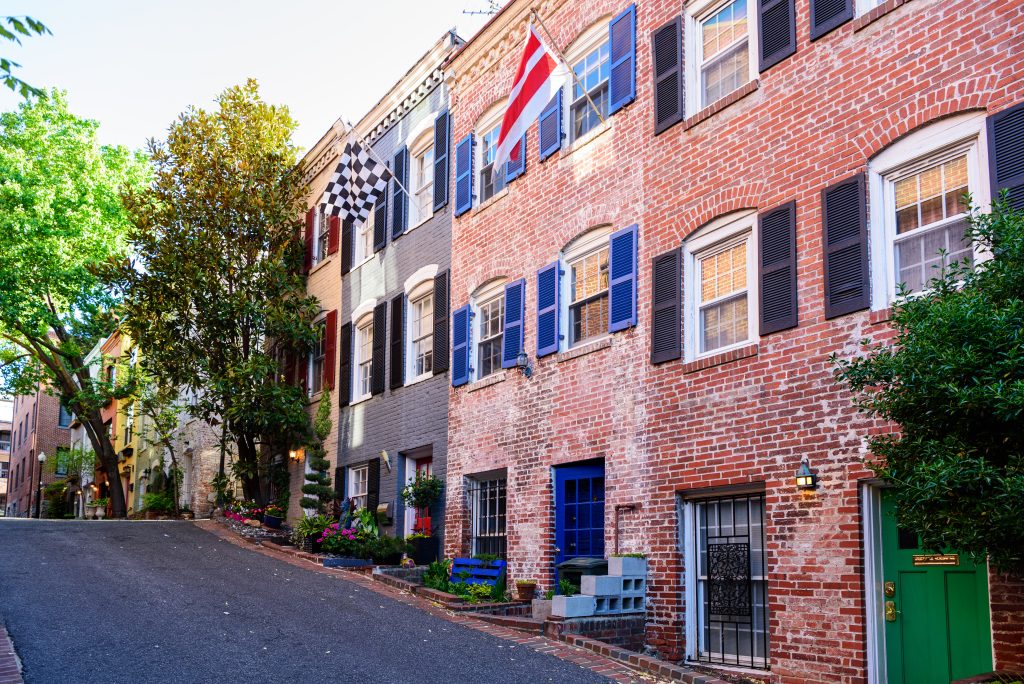 Cost of Living in Washington, D.C.
Cost of living in Washington, D.C. is 39% higher than the national average and Per Capita Personal Income in 2019 was $74,385 
Median Household Income of $85,203
Washington D.C. Apartment Living
The median rents in Washington, D.C. stand at $1,550 for a one bedroom apartment and $1,570 for a two bedroom apartment.
D.C. rents have decreased 2.0% over the past month, and have decreased by 14.4% in comparison to the same time last year.
Renters will generally find less expensive rent prices in Washington, D.C. compared to most similar cities. The median rent in San Francisco for a two bedroom apartment is $2,310, about one and a half times that of Washington, D.C. 
What D.C. Renters Want
Here are the top things tenants report looking for in a property:
Air-conditioning
Dishwasher
Furnished apartment
Balcony
Pool
Parking 
Garage
Stainless steel appliances
Amazing things happen here everyday. I will never tire of having the ability to literally walk to the Capitol, the Supreme Court, the Library of Congress and so much more. It's an incredible thing to be in a place where history is made. For better or worse, I love being in a place where important things happen.

Stacy R.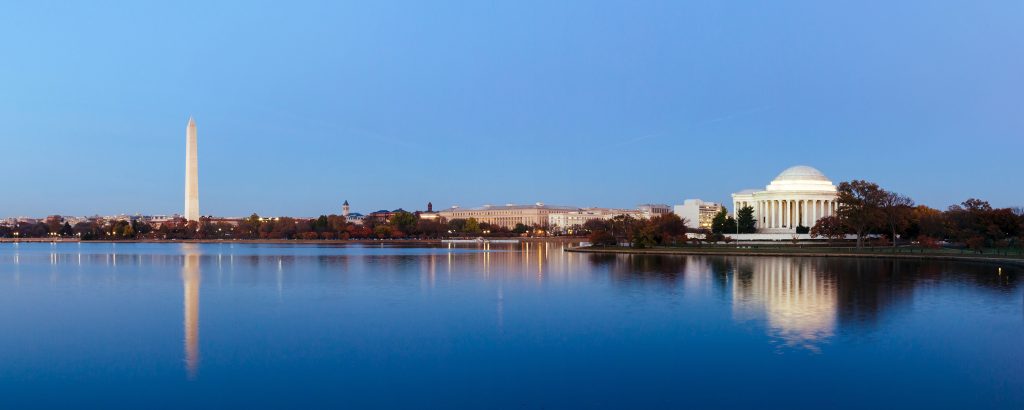 Arts, Recreation, and Entertainment in Washington, D.C.
Washington, D.C. is a city of monuments and memorials. Most are open around the clock, though lines or crowds may form during peak periods. D.C. is one of the country's finest destinations for frugal culture buffs. Visitors should save a boatload on museum admission fees. Washington State is known for its natural beauty and historic past. 
There are 14 National Parks to Explore In & Around Washington, DC. D.C. also offers Washington, D.C. Explorer Pass (Go Card). Includes discounted, paid-up admission to your choice of three or five attractions from a list of more than a dozen.
Washington, D.C. also has a number of professional sports teams that are worth watching, and attending a game offers a welcoming environment among ''Washingtonians''. These are some of the teams:
The Nationals, affectionately nicknamed the Nats, are a member of the Eastern Division of the MLB's National League.
Redskins Washington Football
In hockey we have the Capitals who have won nine division titles and one championship. 
Washington offers over 30 broadcast outlets. The city's daily newspaper, the Washington Post, offers an entertainment guide for visitors who want to enjoy Washington, D.C. 
Washington, DC is a very international city, home to more than 175 embassies and international cultural centers. Fifteen percent of DC residents speak a language other than English.
Read the full research report: Washington, D.C.. We interviewed the people that live there to find out what makes their city special. Stay tuned for more city research.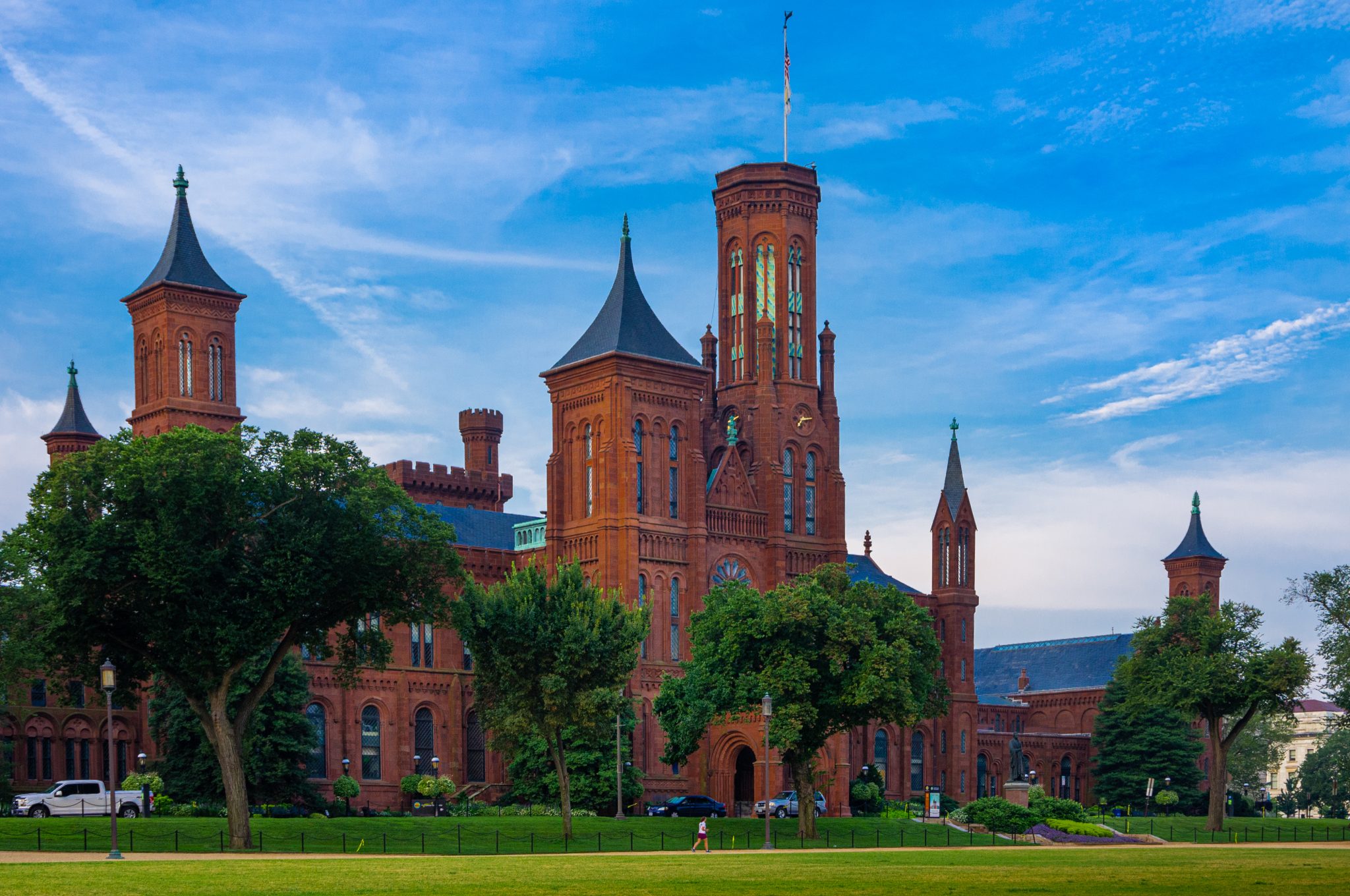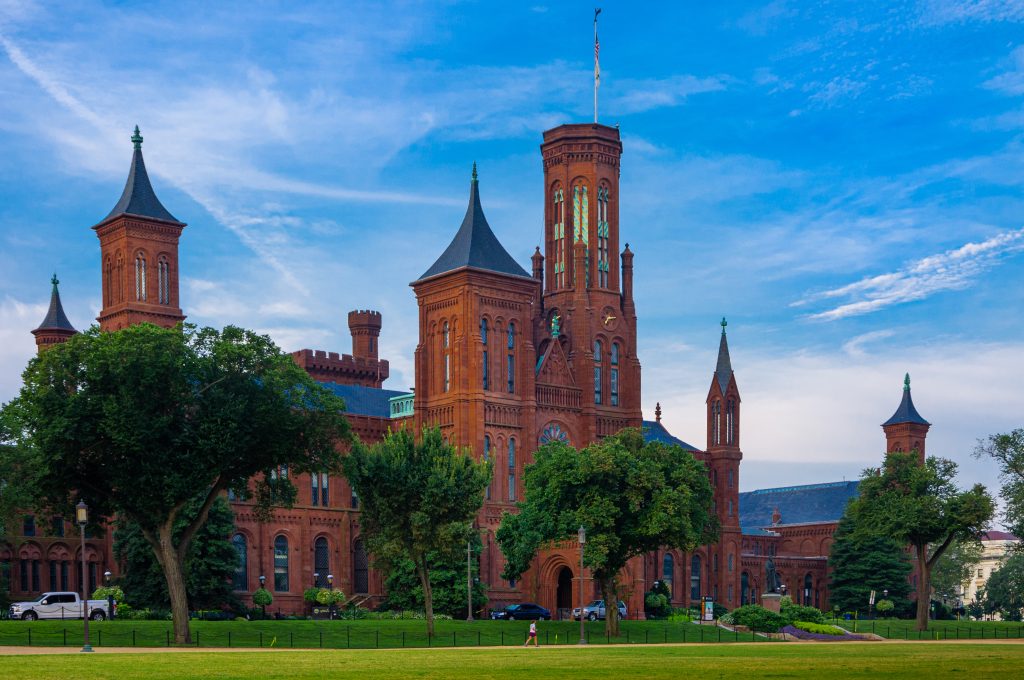 Back to Articles